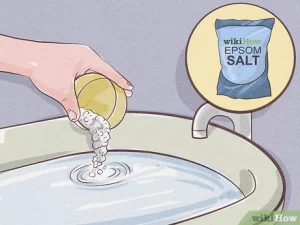 Taking an Epsom salts bath is a great way to treat yourself after a long day of holiday shopping. Decreasing stress, detoxifying your body and relieving sore muscles are some of the benefits of using Epsom salts in your bath.
Follow these steps and enjoy!
Draw a warm/hot bath and add two (2) cups of Epsom salts to the bath water. Stir around with your hand so the salts dissolve.
Soak for at least 12-15 minutes but stay in the water for as long as you would like. Up to an hour or more.
To hydrate your skin you can add half a cup of coconut oil to the bath water.
To enhance the relaxing effect you can add a few drops of lavender to the bath water and listen to some of your favourite music.
As you soak make sure to hydrate by drinking a tall glass of water.